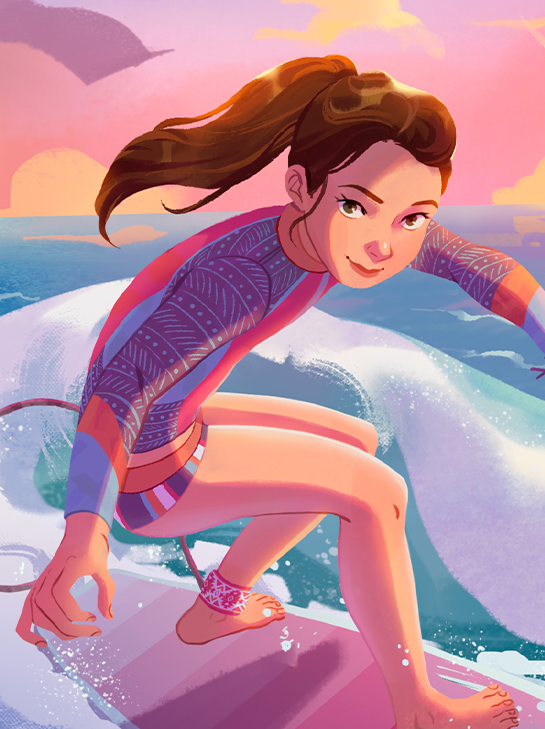 Surfing In: It's Joss Kendrick!
Meet Joss Kendrick, 2020's New Girl of the Year! She Surfs! She Cheers! She Can't Always Hear! And oh, how I am buzzing to really tell you why she's my new darling in so many ways this soon into her release. 
We will not discuss my lack of actual review, talk, or new shit posts in 2019.
*gets glared at and someone points to the two--
two!
--posts I did in 2019*
Okay, okay we will! I'm sorry!
In the past year I didn't cover anything. Not Blaire, not the death of BeForever and Rise of the Historicals Again, not the Moddy Shit, nothing. Between the all new house and the all new other shit on my plate, I let the blog fall aside. I've been packing! Unpacking! Putting up trees! Putting up book cases! Putting books on them! Not having enough book room! Painting rooms! Washing raw wool and processing it and spinning it into things! Working on novels! Spinning yarns in both senses of the word! (I wouldn't be the queer you know and love if I wasn't doing both things.)
...And in all that, not blogging. And now here we are, in 2020, with a whole new Girl of the Year, and I haven't even covered the
last one.
Entire Mix and Match sets have risen and fallen in the time since I last gave a "new shit" post.
I will make it up to you, my beloved audience.
First, let's talk about what I've missed talking about that can be summed up in paragraphs and expanded on later.
Then, about the new shit.
*~*~*
2019: All The News That's Fit To Blog
What's happened in the last twelve months on the AG Front news wise? Well, well,  well...
 It's All In Her Wonk-Filled Eyes: 
After copious complaints from everyone--some justified, some not--AG has gone back to an older style of eyes. Dolls could be sent in to have their eyeballs popped out and replaced with new ones, so you didn't have to live with inferior peeper. You had until December 31st to get this done for free. Now you'll have to live with your choices in eyes. Or pay, maybe, I guess. I sent
Blaire
Fifi in as soon as she was purchased, but everyone else is staying the way they are. Including Luciana.
Maybe now that annoying Bring Back the Kwality account on IG can quietly tumble into a bayou.
BeForever Is Dead, Long Live The Historical Characters:
In October 2019, AG publicly removed all the BeForever branding from the Historical Characters. Kit and Josefina have joined the Cube Life with Addy, Samantha, and Felicity--wait, Felicity? We're not sure. Is she there? Is she not? She's in the catalogs but not in the stores. And what of Molly? What of Molly?! Who knows? Anyways. Now every character has their own adorable logo that emphasizes the year and their name, and their books have the illustrations back! Addy, Kit, and Josefina will get theirs in a few months, but Ellie, DeeDee, Nanea, Julie, Becca, and Kaya already got theirs, which meant all new pics for the first three!
Speaking of those books.
We seem to be missing some things...1
The new books have pictures. And whole chunks of books and story missing.
Guys gays and enby pals, welcome to the Abridged Historical Books. Barnes and Noble was having a yoink one yeet one free sale on AG books right before the switchover and had the new abridged AG books, so Neth got them all and did a few comparisons since
I have all the prior volumes. And

what changed? 
Well, hope you like illustrations more than all of Maryellen's holiday story. Or Rebecca's. Or Julie's story about helping eagles. Or Kaya's story with Lone Dog other than maybe a chapter. These books said abridged and they mean it. Stories are missing, chopped, remixed, and screwed like a 90s mix tape.
AG answered the demand for illustrations to come back by monkey pawing y'all. Picture's worth a thousand words and I'd say about that many got cut per volume. If you're a person who doesn't already have the books in some prior form, first of all what are you doing with your AG book life, get them old books. And second, you're going to be a sad panda. I suspect we're going to have a new set of readers in the future who won't understand major plot things (for example, there is no conflict of Speaking Rain being anywhere but back with her tribe forever). 
Y'all asked for illustrations back, you should have said you wanted to keep all the words too. You know genies are assholes. Next time specify your wishes into the universe.
I'm chill but others won't be.
Maybe unabridged will come out later. Or maybe we're all boned. 
AG Stores, We're Two Down: 
American Girl closed two AG Place locations--Mall Of America/Minneapolis and Boston/Natick--on March 20th. All the petitions in the world online didn't help and just got your data harvested. Enjoy the spam mails! The general thought is that AG, losing money hand over underwear and eyeballs, let them go. Or the malls just didn't want to renew the leases because whatever reason. 
My store seems to be doing okay. 
Here's the Free Shipping You Wanted, and Dolls Are Cheap and Plentiful
American Girl in June started offering standardized free ground shipping on minimum orders of $125 or more. Additional charges continue to apply for rush shipping, shipping outside of the US or Canada, and shipping large items.  
Then they dropped the cost of dolls across the board to $98 by October.
So you're going to have to buy more than dolly and a pair of shoes to get them sent to you no cost. Get her accessories. And then some shoes. 
AG Rewards: It's now by Moneys:
The AG Rewards got a revamp, with the biggest change being that that each tier is reached by dollar amounts spent annually, not points accumulated per year. Y'all were gaming the system too hard, now it's dollars. Each reward level will have its own unique annual reward certificate gift, and Berry level members also will not have points expire as long as the level is maintained.
The 2019 Retrospecticus: Neth Will Cover What She Missed
She's got a chicken!
Regarding the old new shit, here's what I'll do: Every few posts here in January,  I'm going to go over the 2019 things. Blaire, the All New Old Historicals, Moddy Shit--even if it's gone forever and your only hope is eBay or crying on Instagram. Hell, half the stuff missed me by. It was gone faster than Sam's Velvet Underworld Dress. I was too busy picking out carpet and bedroom funiture, visiting my mom and grandma, hanging out with cool people, ending up with two Kirstens
2
and hanging vertical blinds
3
to get everything, and what I got I'll be okay with. Hey, Blaire's still around. Hell, Luciana kind of is.
I got pictures of it all! I just didn't blog. So you can still have my thoughts on everything.
*~*~*
Now, we can get to talking about Joss! 
Air over the cut and let's get this surfing party starty.